TI supports sub-GHz and Bluetooth on one MCU
Texas Instruments has announced a microcontroller with radios for both sub-GHz and Bluetooth low energy radios, claiming it to be the lowest power dual-band MCU yet.
Called the CC1350 wireless MCU, it offers a range of up to 20km on a coin cell for building automation, factory automation, alarms, security, smart grid, asset tracking and wireless sensor networks.
To see which bands are available when, see the list below.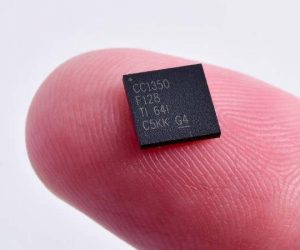 Sleep current is 700nA, allowing for >10 years of operation from a battery, said TI.
A dedicated ARM Cortex-M0 controls the radio, handling low-level sub-GHz and 2.4GHz RF protocol commands that are stored in ROM or RAM.
"This enables the combination of a sub-1GHz communication solution that offers the best possible RF range together with a Bluetooth low energy smartphone connection that enables great user experience through a phone application," said TI.
Also on-board is a 48MHz Cortex-M3 microcontroller to support the physical layers, RF standards, and for application processing. And there is a dc-dc converter.
CC1350 is the first device in the CC13xx and CC26xx family of low-power wireless MCUs capable of handling both sub-GHz and 2.4GHz RF.
CC1310 will be a sub-GHz-only device in the family.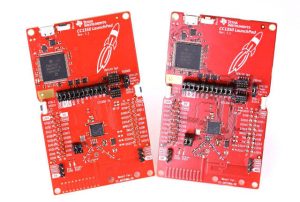 Developers can get started with the CC1350 wireless MCU LaunchPad development kit (LAUNCHXL-CC1350) or connect 10 MEMS sensors to the cloud with the CC1350 SensorTag demo kit (CC1350STK).
TI claims the sensor demo will connect its sensors to the cloud in three minutes, but don't start the clock yet as the kit will only become available in Q4.
Software support comes through TI's Code Composer Studio integrated development environment (IDE) and IAR Embedded WorkBench.
There is also a wireless M-Bus protocol stack as well as the BLE-Stack 2.2 software development kit (SDK) which supports Bluetooth 4.2.
"Developers will also have access to on-line training and E2E community support to help ease their design process," promised the firm.
Available frequencies
315MHz
433MHz
470MHz
500MHz
779MHz
868MHz available now
915MHz available now
920MHz available now
2.4 GHz
Packages
4x4mm QFN
5x5mm QFN
7x7mm QFN available now
TI's SimpleLink portfolio includes chips for standards including Bluetooth Smart, Wi-Fi, Sub-1GHz, 6LoWPAN, Thread and ZigBee.
CC1350 is pin-to-pin and software compatible with the firm's other SimpleLink products.